1,000 NIGERIAN-WORDS TO THE INSPECTOR GENERAL OF POLICE
Policing means "watching" and to keep watch, you must understand what is normal so as to recognize the "abnormal" and raise alarm about it. A police officer is no more than a vigilante, hired by the people to watch their backs and backyards. Every police officer must be loyal to the people! You can't be a police if you think you're too-big-to-be-questioned by your employer, the people. Neither should you be enrolled into the police force if you have no understanding of policing as being crime-preventive rather than a crime-punitive.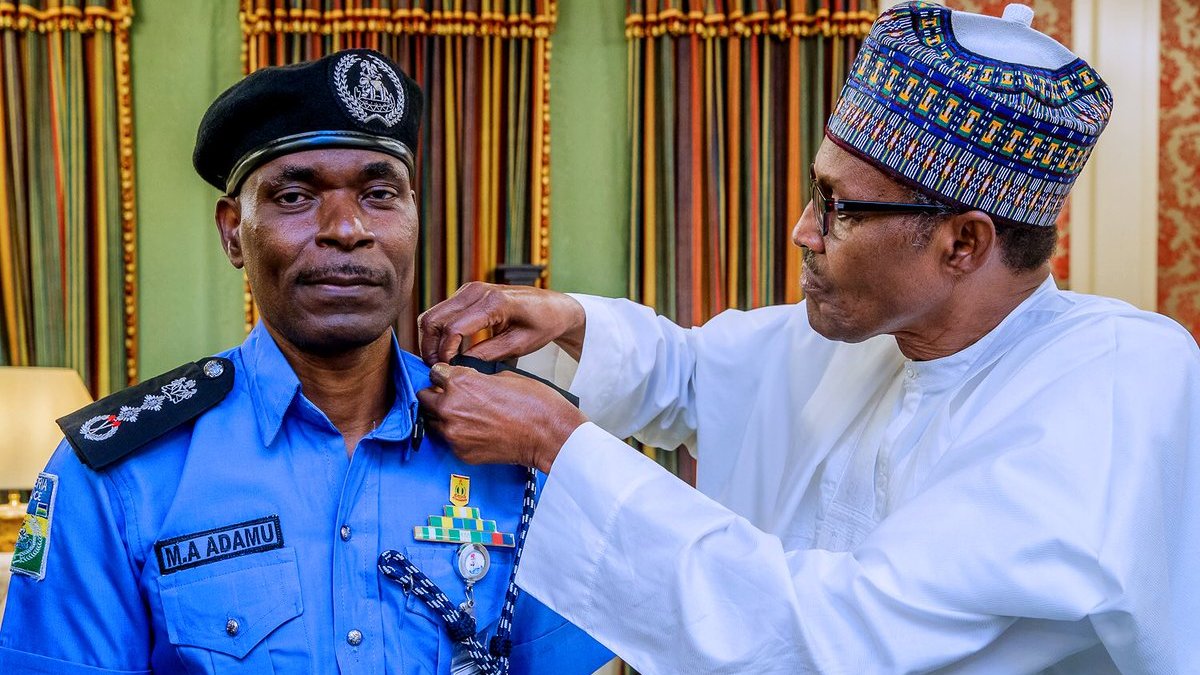 The Nigerian Police Force has it all wrong; you join the police force because you were jobless and broke, thinking being an officer would pay a monthly salary but the government of Nigeria doesn't think that way. This government doesn't see itself as a "servant of the people". Though democratically elected into office, the political civil servant considers himself a more privileged Nigerian than those who employed him to govern the nation's affairs. A positional delusion, the same mindset and mental problem bites the Nigeria Police Force and the Nigerian Government. How can we expect a stew-peed government to produce a correct police department? Either we are stew-peed or we are just clueless!
If you join the police force tomorrow and some young-looking boy or girl insults you inside a public bus, what would you do? In this presently possible situation, the fellow Nigerian was just pissed off at you because you're a police officer and so decides to make you the butt of his or her unsolicited jokes, how would you take it dear officer? Classically speaking, a Nigerian police officer is supposed to be smarter than the ordinary citizen which is why you can't afford to play sentimentally low and react to the frustrations of "anyone" on the street. You are supposed to be the Role Model for civility hence the civilian should never be more civilian than you, the police officer. If you already think of yourself as a force-man or woman, you have lost your primary senses and your duty a happening mess. We are supposed to see and envy you in that police uniform because you are supposed to be our superheroes, replacing childish imaginary characters such as Spiderman and Catwoman.
The Nigerian Police has an image problem which actually is an identity crisis. What we need is a mental baptism of the officer's mind, not a raise in salary. There are many people who would work just for the honor of it; pay them very little and they wouldn't bulge because they are fulfilled by the honor they get doing what they do. That's why volunteers do what they do with NGOs across the world, if we cannot raise honorable officers who are not primarily after a good-pay, we could neither #EndSARS nor #EndPoliceBrutality in Nigeria.
Make the police department honorable and Nigerians who live by integrity would pour out to join the police force. But as it is, no reasoned and seasoned soul would pally with a bunch of uniformly uninformed riff-raffs going about disgracing themselves and the nation. The Nigerian Police Officer is psycho-sick and bodily they are quite weaker than you can imagine. Are we employing lazy bones and sickly souls to watch our back? We need a psychological revolution to birth the truly Nigerian police department that we all need. If we protest in a way that reveals the same folly in us which we today abhorred in the police officers, we have made it clear that we can never get what we're asking for. Really! If you and I do not become that ideal police officer character, who will be the change we need?
Dear Inspector General of Police, you have been a huge failure as a leader, no one can doubt that. Your wife must see you as a good husband and your children as a good father, we have no doubt you'd be a good Nigerian yourself but as a leader of this police department, your failure is colossal and undeniable. Be honorable enough to admit it and if you do, there is a simple way forward: RESIGN or REFORM. And while your resignation is the first best option, your reformation drive could make a whole lot of difference so that your children and unborn generations may have something to celebrate in your lineage.
Have you decided to resign? Get it done with before October month's end and let's know those who are left in the barracks of the deranged. But should you decide to reform the Nigerian police department, your time is NOW. Oga, you don't have till month end to reform the present Nigerian Police Force ooo… let this be very clear to you because Nigeria has just entered into a new year and it is The National Year Of Nationwide Protest!!!
Reforming the police department begins with how you recruit new officers. The Police College at GRA, Ikeja and the others are a mess. No sane service-minded citizen could be raised within such a program that resembles a housing of thugs, thieves and cultists. Yes, we know what happens within those shameful walls where new police officers are unmade. It cannot continue to be! Enforce transparency, open all police stations and the affairs of all police officers to public scrutiny. Let schoolchildren, researchers and journalists pour into the police department asking questions and getting answers freely because they are the stakeholders and your employer. This is how you build public trust especially if you want to see any sensible person say, Police Is My Friend. But if you think you can continue gallivanting around with guns under your arms, sorry! Your weapons can't protect you from what is coming upon Nigeria in 2021!
The Lagos State bicycle riding police officers were good, now becoming a menace. Watch your back. Nigerians are coming for y'all! We say? #PoliceIGPmustRESIGNorREFORMnow
Shepherd Naijapikin Godsbaby writes from the Streets of Nigeria!